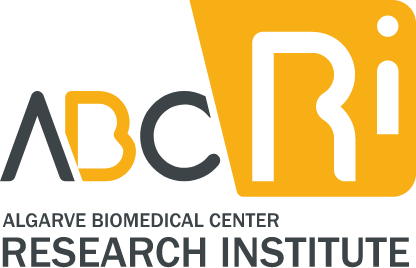 ALGARVE BIOMEDICAL CENTER RESEARCH INSTITUTE
The Algarve Biomedical Center Research Institute (ABC-RI) is a recently formed research unit within the University of Algarve and the clinical academical center ABC. ABC-RI constitutes an innovative and high-quality hub for biomedical research, aiming to become the flagship unit in the biomedical field in the South of Portugal and the reference center associated with the Faculty of Medicine and Biomedical Sciences at UALG.
Devoted to basic and translational research and post-graduate training in biomedical sciences, ABC-RI integrates highly competitive and productive Research Groups with several national and international projects, high-ranked scientific outputs and an excellent network of research collaborations. Additionally, the center benefits from a protocol established with Fundação Champallimaud (FC) that integrates high-quality researchers and cutting-edge technology from FC Research Program in ABC-RI.
The 10 Research Groups result from a multidisciplinary collaboration between researchers, clinicians, and stakeholders in the research domain of the Center. Combined, the Group Leaders host 28 Researchers (20 PhD/MD holders), 16 PhD students, 18 MSc students, 8 technicians plus several BSc students per year. Their innovative research aims to bring real advances to science, creative solutions to biomedical problems, and innovation to the society.
Under the research domain of Healthy Ageing and the motto "Research for Health", the ABC-RI is organized in 4 state-of-the-art, innovative, integrative, and connected work packages:
1) Fundamental research
2) Translational Research
3) Clinical Research and
4) Educational and Outreach Actions.
This organization is based on a consolidated expertise in these areas and in the importance of these research domains for the Region of Algarve as a recognized Reference site for the European Innovation Partnership on Active and Healthy Ageing.  Importantly, it allows a comprehensive and integrative approach to healthy ageing research, ranging from molecular studies to a bench-to-bedside (translational and clinical) and bench-to-market (knowledge transfer) actions, benefiting also from founded collaborations with relevant regional (e.g. CHUA, UALG), national (e.g. Fundação Champalimaud, ISCTE), and international (e.g. Goethe-Universität Frankfurt am Main) stakeholders.
Moreover, the ABC-RI benefits from access to relevant structures, including the ABC Biobank, the Algarve Experimental Surgery Center, the Genome-Portugal – National Facility for Genome Sequencing and Analysis, and Portuguese Platform of Bioimaging (PPBI).
Ultimately, ABC-RI encompasses the concept that biomedical innovation makes its greatest impact when top-research, collaboration, translation, and entrepreneurship are brought together.
Executive Board
Clévio Nóbrega (Director)
Inês Araújo  (Vice-director)
Coordination Commission
José Bragança
Leonor Faleiro
Pedro Castelo-Branco
Raquel Andrade
Sandra Pais